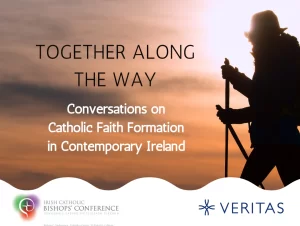 Together Along the Way: Conversations on Catholic Faith Formation in Contemporary Ireland
This 2022 webinar series organised by the Council for Catechetics of the Irish Episcopal Conference in partnership with Veritas brings together leading theologians, religious educators, and catechists to explore new avenues for Catholic Faith Formation in Contemporary Ireland inspired by the new Directory for Catechesis. The monthly webinar series will resume in the Autumn. The recordings of the first webinars in the series can be viewed here:
Together Along the Way Webinar Series
The December webinar and the final in this webinar series will take place on Wednesday, 7th December at 7 pm GMT on The Vocation of the Catechist in the Light of the Newly Published Directory for Catechesis presented by Rev Dr Jan Nowotnik.
Fr. Jan Nowotnik is a priest of the Archdiocese of Birmingham. He studied for the priesthood at the English College in Valladolid, Spain and was ordained in November 1998. Following his ordination, he worked in various parishes and pastoral settings within the Archdiocese of Birmingham before moving to Rome in September 2015 to begin further studies in theology. He specialised in Ecumenical and Interreligious dialogue and received his theology license in 2017. During that time, he became a member of the Russell Berrie Foundation's John Paul II Centre for Interreligious dialogue and continues to support the foundation in encouraging interreligious dialogue.  He has just completed his PhD in theology at the Pontifical University of St Aquinas – Angelicum in Rome.
Since September 2020 he has been Director of Mission and National Ecumenical Officer for the Catholic Bishops' Conference of England and Wales.