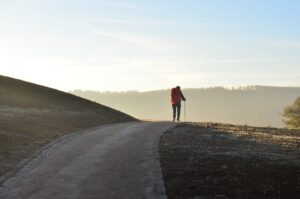 The Council for Catechetics is organising a Guided Day Pilgrimage for RE Teachers working in Catholic Schools walking the ancient pilgrimage trail Tóchar Phádraig from Ballintubber Abbey to Aughagower on 15th June. The day will be led by the National Director for Catechetics.
The day will begin with Mass at 10.30 am at Ballintubber Abbey before setting out on a 17 km pilgrimage on Tóchar Phádraig, the ancient pilgrim path, to Aughagower church. A bus will bring walkers back to Ballintubber at 4 pm. It is an opportunity to meet with other RE Teachers in a contemplative setting walking in the footsteps of St Patrick. Teachers working in Catholic Primary and Post-Primary Schools are welcome to attend. 
Pilgrims are asked to bring a packed lunch, water, and good hiking boots as the trail is off road and through fields.
A donation of Euro 15 is requested to be paid in cash before leaving Ballintubber for the maintenance of the trail.
Register for the event here: